Since I've made it
humiliatingly clear
that we are thinking about expanding our family, I've thought more about travel as a family and how I think it will be quite different than how Markus and I travel now. I love the idea of the whole family, lots of healthy groceries and Little Child (who will get to ride in the actual vehicle) heading out for an adventure all together where we can settle into a cabin or beach house instead of a hotel room. Outdoor activities by day and board games at night.
It reminds me of my family's love of state parks before we moved to Ecuador, specifially
Petit Jean State Park
in Arkansas.
I love Markus and I's trips to Europe to see his family and our excursions to Chicago and San Francisco. That said, since we live in a big city to begin with, some of our most relaxing vacations have been just out to Lubbock to unplug and get some time on our bikes and outside walking around. I think we would love a state park vacation!
One of my favorite things about Petit Jean State Park is its namesake. Petit Jean was actually the young French girl Adrienne Dumont, who disguised herself as a cabin boy to accompany her love over to America during the French exploration of the New World. Petit Jean was the perfect stowaway until she became ill before their return and her gender was discovered. She died in the mountains of Arkansas and her grave is a part of the park. I love a good secret romance with my nature hike!
Petit Jean has some great cabins for families with kitchens, one even featuring a jacuzzi tub for post-hike soaks! I am also so excited about the re-opening of their
Mather Lodge
- with guest rooms and a dining room with meal service for those, like the current Neubauers, who may not have enough people in their party to warrant a full cabin rental.
There's also camp sites and RV hookups, though I personally find life to be too short to spend nights away from a real bed.
Some visual highlights from Petit Jean Park that have me wanting to throw on my yoga pants and SPF to head to the mountains:
Cedar Falls - a 95ft waterfall in the park
Some of the incredible rock formations on Bear Cave Trail
I want to go there...
If you love state parks like I do, head over to the Travel Tuesday link-up at Semi-Charmed Kind of Life, where bloggers are sharing about their favorite park excursions!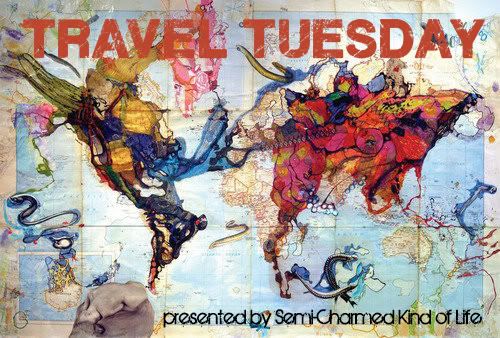 What are your favorite types of vacations?
Do you have a favorite family vacation memory you hope to revisit one day?